Photographing the Milky Way - Equipment
Everyone seems to be fascinated to some degree by the night sky. There's just something hypnotic about gazing upon objects that are billions of years old and light years away. Ancient peoples first looked up thousands of years ago, and the stars were there; pinpoints of light that seemed to slowly rotate around the Earth. The first astronomers also noticed the planets, the Moon and the Sun, and their motions across the night sky. We have historically relied on all the breathtaking photos of space provided to us by the experts. But we no longer have to leave all the fun to full-time astronomers. With the world of digital cameras, anyone can photograph the night sky.
Obviously we can't photograph the whole Milky Way Galaxy. The cloud on the night sky is actually the light of billions of stars. In reality, all we are seeing is a small, edge-on view of the galaxy's plane. This small piece of the galaxy is truly captivating.
Night photography deals with enormous ranges in contrast. In order to capture the night sky and the landscape as our eye see, we must control the contrast. You can do that by adding subtle artificial light painting or by adding landscape portions from another photograph that has been given a longer exposure to starlight or moonlight. Your preparation will greatly determine your success. This success will depend on your understanding of the night sky, lighting, camera settings and other challenges and obstacles you must overcome.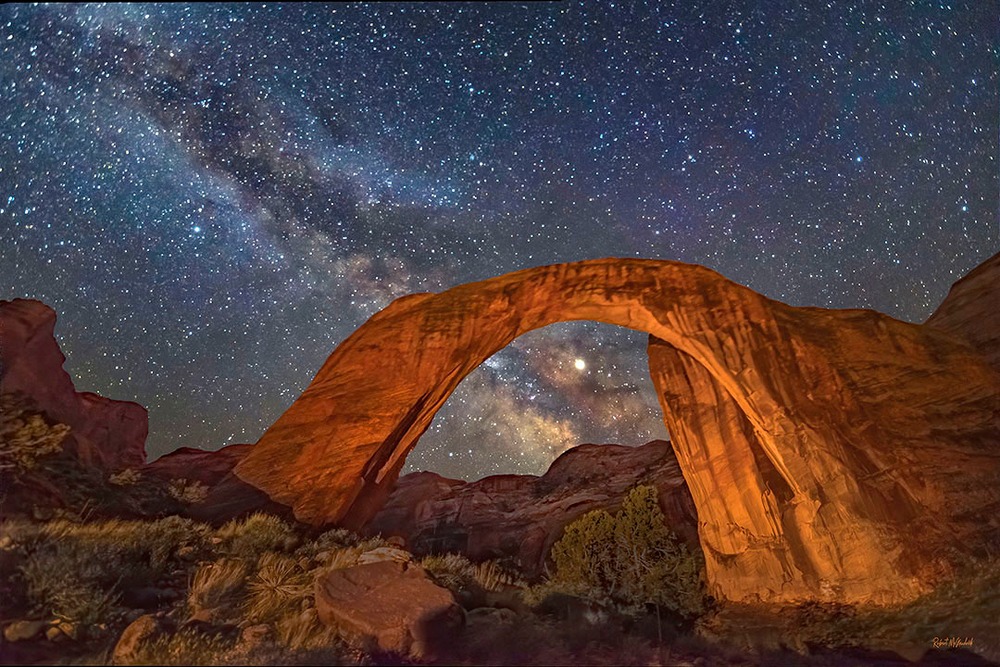 Equipment
Most of today's digital cameras have very low digital noise, even at very high ISO's. Full-frame digital sensor cameras usually have the lowest noise, because their pixels are larger, however many of the cropped, APS-C size sensors do well. The new high end mirrorless cameras have most of the DSLR features minus the weight and bulk. The main thing you should look for is a camera that is capable of at least ISO 6400 (12800 or 25600 are even better), without having to go though an expanded camera function (this usually indicates the manufacturer feels their higher ISOs are usable, but not recommended. Some recommended cameras are.
Nikon D810, D750, D610, Nikon D7200 (APS-C sensor), Z7 (mirrorless), Z9 (mirrorless); Canon EOS 5D Mark III, EOS 6D, EOS 7D Mark II (APS-C sensor), Rebel T5i or 700D (APS-C sensor), EOS Rebel T3i* or 600D (APS-C sensor); Sony a7R (mirrorless), 7S (mirrorless),a7III (mirrorless), Sony Alpha 1
Wide angle lenses are usually best for NightScape photography in order to capture the expanse of the Milky Way. However, a standard 50mm focal length (for full-frame cameras) can produce some dramatic close-ups. The "speed" of the lens (it's widest\]aperture) is important for NightScape
photography. F/2.8 or faster is preferred. However, be prepared for sticker shock, as a quality f/2.8 zoom lens by Canon or Nikon will often cost almost twice what an f/4 or f/4.5 lens of the same zoom range.
Some lens recommendations: Nikon:14-24mm f/2.8G AF-S ED(for full-frame sensors) 50mm f/1.8D (for full-frame)
Canon: EF 16-35mm f/2.8L II USM (for full-frame sensors
Sigma: Sigma 14-24mm f/2.8 DG HSM ART Lens
Tokina: ATX AF 16-28mm f/2.8 Pro F
A sturdy tripod is a must. Nothing is more frustrating than fighting a tripod in the dark. You will be shooting long exposures (15 seconds and longer), so a sturdy tripod is a must-have. A flimsy tripod that will shake like crazy during the exposure, especially if there is light wind. A good-quality tripod is one of the most important accessories you can get for your camera, but with so many brands and options out there, choosing the right one can be a challenge.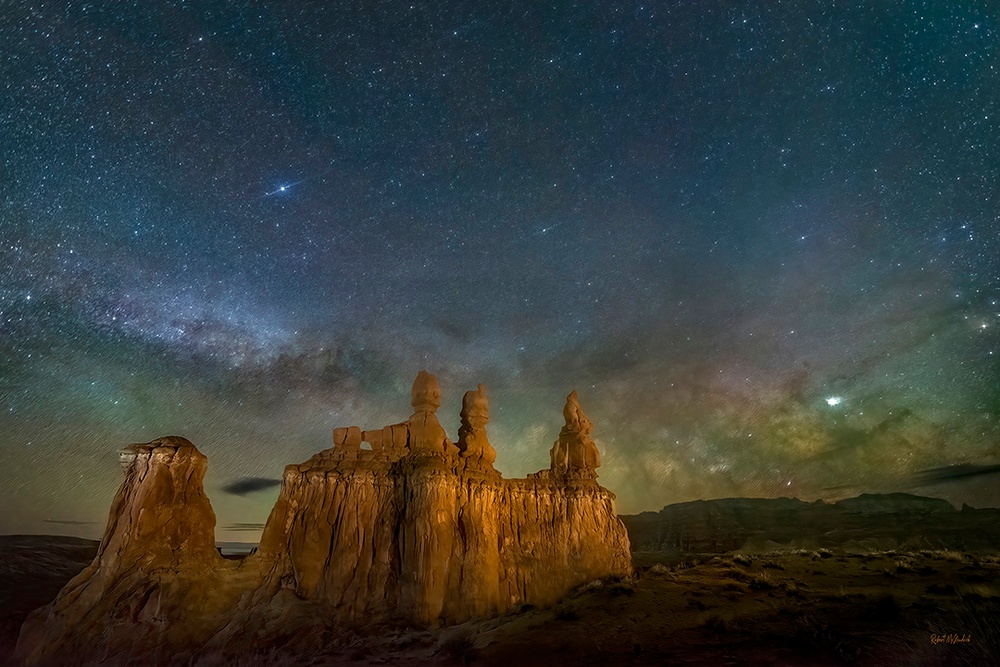 An intervalometer is a remote release that also has a programmable timer built in for doing long exposures and take a sequence of exposures. This works great for "stacking" images for noise reduction. Some cameras now have intervalometers built in. They are functions built in, so you'll still need a convenient way to fire your shutter remotely. Cabled remote-only releases are one method, infrared and radio controlled releases are, are one
method, infrared and radio controlled releases are great for the person who wishes to be untethered
Star trackers follow the movement of the night sky, so you can use much longer shutter speeds than usual and maximize image quality. However, star trackers will cause a blurry foreground (because they can't track the foreground and the stars simultaneously), so some time of blending in Photoshop becomes a necessity. More about Star trackers in this blog. Star Tracking
This is just an introduction to camera equipment used to photograph the Milky Way. If you are willing to explore this subject in more detail, check out Royce Bair.'s ebook. It is very well written with a 140 pages of information.